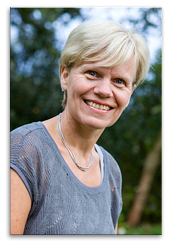 Marie-José Kuijpers-Steenbakkers (1965) werkte jarenlang als groepsleidster met verstandelijk gehandicapten. Bij een GGZ-herstellingsoord begeleidde zij, als een groepsleidster, mensen met stressgerelateerde problematiek. Momenteel begeleidt ze volwassenen en gezinnen met autisme en werkt ze in een zorgcentrum als maatschappelijk werkster. Daarnaast heeft zij een eigen praktijk voor Persoonlijke Begeleiding: Your Way.
Aan het Europees Instituut te Amsterdam volgde zij de vierjarige opleiding Counseling/Coaching en Psychosociaal Werk. Ze is opgeleid aan het Jungiaans Instituut te Nijmegen tot Jungiaans Analytisch Therapeut. Daarna behaalde ze het diploma Maatschappelijk Werk en Dienstverlening.
Haar aandacht gaat verder uit naar verliesverwerking, kernkwaliteiten, voice dialogue, zelfonderzoek en het werken met energieën waarbij zij focustechnieken integreert in haar werkwijze.
Het uitgangspunt van Persoonlijke Begeleiding is steeds een holistische benadering van ziekte en gezondheid. In samenspraak met Marie-José bepaal je de werkvormen die wenselijk zijn. Dat kunnen ontspanningsoefeningen, visualisatieoefeningen, imaginaties of schrijf- en teken opdrachten zijn. Je zult diepgaande gesprekken voeren naar aanleiding van thema's, teksten of beelden die bij je binnenwereld aansluiten.
Naast heel aardse zaken kunnen ook je spiritualiteit, dromen en overtuigingen aan bod komen. Met Marie-José bepaal je de leerdoelen van een serie gesprekken.
De kwaliteit van de Persoonlijke Begeleiding is gewaarborgd doordat Marie-José aangesloten is bij:
Wil je graag een afspraak maken of bespreken wat ik voor je kan betekenen? Neem vrijblijvend contact op.